Induction furnaces enduring over the years
CBL has developed a flexible, high quality know-how specialising, over the years, in the production of induction furnaces made for different types of uses. Among these steel reheating, hardening and annealing account for 90% of the company production. Attention to detail and precision in the execution make CBL furnaces a reliable working tool.
CBL range of furnaces is complete, while the ability to design and build tailor-made products can fit the most specific needs.
Accurate production stages guarantee the durability of CBL furnaces
On the production line of CBL furnaces high quality standards are maintained with regard to the choice of material employed and to the manufacturing process. These standards guarantee that our products can stand any type of stress, even the most extreme.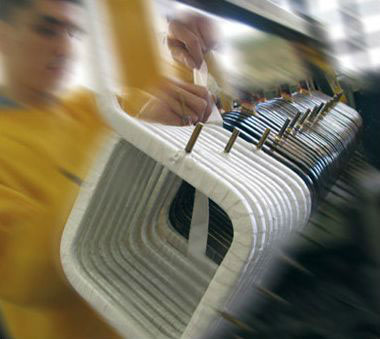 The manual resistance taping is a delicate and difficult manufacturing process which, unlike the mechanical processes, is an effective answer to the estreme and fast wear and tear which induction furnaces are subject to during their everyday use and it subsequently guarantees the maximum durability over the years.
Extreme attention is given to the laying of the peculiar templates and shapes that we design and build, coming before the crushing in the refractory.
Their specific morphologies allow us to use a special refractory employing a very little water percentage and attaining dielectric resistance and mechanical compactness features well beyond standards.
After crushing in the refractory, the templates or shapes are removed and the inductor undergoes a 12-hour primary dehumidification, after which it is placed in the oven (where they stay for 48 hours) to be eventually delivered to the customer ready for use.
The best components guarantee a reliable product

Specific applications such as guide-ways for the sliding of the billetts make the CBL furnaces safer and more durable and also allow the speeding up and maintenance of productions times for each alloy.
The link units, which allow for a smoother sliding of pieces, are assembled using harder materials, guaranteeing a better resistance to wear and tear.
Repair and restoration of damaged and badly worn furnaces
CBL has developed a department specializing in the repair and recovery of worn and damaged inductors. A particularly delicate task that requires precision and speed of execution in order to reduce to a minimum the stop production of items for repair.